SONNY'S 727 cu.in 1375 HP HEMISPHERICAL HEADED 1X4 PUMP GAS ENGINE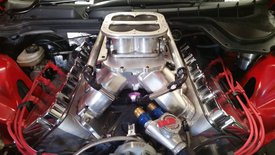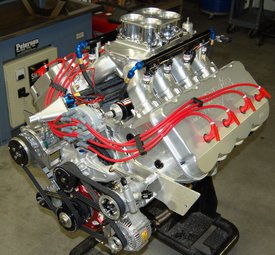 (Pictures may show optional equipment. Click to enlarge.)
New for 2015 Includes Billet Aluminum Manifold
Description
More Great Video: Gup Takes Out Street Tyre Showdown 10.5 @ 140
DESIGNED TO RUN ON 91 OCTANE PUMP GAS........FOR ALL YOU DIE HARD STREET ENTHUSIASTS, THIS IS THE WOW FACTOR ENGINE!!!. THIS BAD BOY 727 CU. IN SONNY LEONARD HEMISPHERICAL HEADED STREET ENGINE PRODUCES OVER 1375 HP ON 91 OCTANE UNLEADED FUEL, YES, ON 91 OCTANE UNL FUEL!!! THE 727 WAS BUILT FOR THE HARD CORE STREET CAR ENTHUSIAST, THAT NOT ONLY WANTED THE ULTIMATE IN PERFORMANCE, AND RELIABILITY, BUT THE WOW FACTOR!!. WITH SONNY'S HEMISPHERICAL CYLINDER HEADS, THIS ENGINE IS SURE TO DRAW ATTENTION, AND HEAD SHAKING, THE 727 ENGINE FEATURES ALL THE LATEST TECHNOLOGY AND IS MADE FOR EVERYDAY STREET DRIVING, IT FEATURES ALL THE BEST COMPONENTS, FOR DRIVEABILITY, AND RELIABILITY. CALL AND ORDER YOURS TODAY!!
** SONNY'S ALSO OFFERS A CROSS COUNTRY ENDURANCE VERSION OF THIS 727 , WHICH PRODUCES OVER 1225 HP, CALL FOR DETAILS
Features
Sonny's fully in-house CNC ported hemispherical cylinder heads
Sonny's/Brodix 5.000 B.S. block with 1.000" raised cam with special hi-flow water jackets
Bryant billet crank
Carrillo Steel Billet rods
BME endurance pistons
Keyed 1.062 special roller lifters
Tool steel taper-wall pins
Total Seal rings
Manley titanium intake valves, Manley Inconel exhaust
PSI valve springs
SAR/T&D rocker system

Trend pushrods 1/2"
Jesel cam belt drive
Moroso wet sump oiling system
ATI balancer
MSD cranktrigger ignition
SAR Special 1x4 billet aluminum intake manifold
SAR/BLP 2100 CFM carb
SAR Billet valve covers
MSD hi-torque starter
Fuel lines with 2 port regulator
Sonny's/Special 60 mm camshaft
Options
Michael Gilbert, Australia

I honestly cant believe just how reliable this whole engine package is right now. We check the rockers and they rarely need adjusting and yet the flogging we give the engine would surely mean new springs yet the whole top end is rock solid and still perfect even after some 3000miles… thanks Sonny and the team for building me a perfect dream engine..