SAR 649 CU. IN. TRUCK PULL ENGINE WITH GM HEMISPHERICAL STYLE HEAD 1625 HP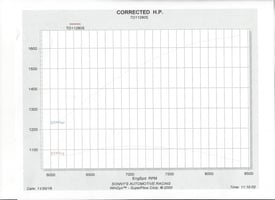 Rick Johnson's new 648 Engine shown above!!
(Pictures may show optional equipment. Click to enlarge.)
2012, 2013, 2014, 2015 GRAND NATIONAL WINNING ENGINES
Description
THIS IS THE ULTIMATE ENGINE FOR ALL OUT NTPA TRUCK PULLING, THIS ANIMAL MAKES OVER 1625 NATURALLY ASPIRATED HORSEPOWER, THIS 2017 ENGINE ALSO UTILIZES OUR GM STYLE HEMISPHERICAL CYLINDER HEADS FOR MAXIMUM HORSEPOWER AND TORQUE.(updated for 2017) THIS IS THE SIMILAR ENGINE USED BY RACERS SUCH AS 2012, 2013, 2014 , 2015 NTPA GRAND NATIONAL CHAMPION JASON BRAMMER, 2015 PPL Tour Champion Jake Zaring, LARRY PETERSON, MARK MANGAN, PETE MCKEETH, JOE CRAMER, LISA PETERSON, WOODY FOLSOM,, EDDIE ZEDRICK, RICK JOHNSON, BEN ELLIS and TERRY DAVIS JUST TO NAME A FEW, BUT NOW WITH EVEN MORE HP AND TORQUE!!
1625+ Horsepower
Complete and Dyno Tested
Features
Sonny's in-house fully CNC ported "Next Generation" Hemispherical cylinder heads
SAR/CN Billet block with 2.000" raised cam
Bryant billet crank
GRP Billet Aluminum rods
SAR/ Diamond pistons
Jesel 1 1/16" keyed lifters
1.031 tool steel taper-wall pins
Total Seal Gapless rings
Manley titanium valves & PSI springs
SAR shaft mounted rocker system with needle bearing roller tips

Sonny's new design belt drive
Dailey 5-stage dry sump oiling
Moroso vacuum system
ATI balancer
MSD cranktrigger
SAR sheetmetal 2x4 intake w/linkage
SAR/BLP (2) 4 barrel dominator carburetors
Sonny's Billet valve covers
Pro Series MSD starter
Fuel lines with 4 port regulator
Options